Site Map >
---
The Palmerston Forts of Gosport - afloat
---
---
| | | |
| --- | --- | --- |
| | | Spitbank Fort: Built between 1867 and 1878, the smallest of the 3 main forts, 162' across, with 1 floor and a basement, with armour plating only on the seaward side. It was originally planned to have armed with 9 10" eighteen ton RML guns on the seaward side, and 6 7" seven ton RML guns on the landward side. In fact 12.5" thirty eight ton RML guns were placed on the seaward side, but the extreme difficulty of reloading the guns in such a confined area gave such a low rate of fire that all but 2 were removed in 1898, when 2 4.7" quick firing guns were fitted on the roof aided by searchlights. |
---
The fort is currently in private hands, open as a museum and for private functions (although it was put on the market in Nov 98). A party of 4 can stay overnight for £100, boat included! click here
Spitbank History: Designed by Captain E. Steward R.E. who was on the staff of Col. Jervois, the Assistant Inspector General of Fortifications. The forts were adapted to include iron portions and shields designed by Captain Inglis R.E. and his assistant Lieutenant English. Captain Englis attended every experiment at Shoeburyness on aspects of guns versus armour between 1857 and 1884. He was appointed to the position of Inspector of Iron Fortifications in 1867. The ironwork that he designed for Spitbank Fort consisted of twenty five inches of iron plate, wrought-iron and teak sandwiched in layers in order to withstand the latest naval guns. Standing on a stone and concrete foundation ring built directly on the seabed Spitbank Fort is constructed of iron, concrete and granite. The fort is circular with an external diameter of 162 feet at the bottom level with the shoal, narrowing to 146 feet at the top surface of the sill course. This provided a batter of 1ft. in 22ft. 7-in. Upon the shoal a solid annulus of masonry 48ft. Thick was constructed. The exterior rings to a height of 15ft. are of Bramley Fall and Runcorn stone; above this is granite. The interior rings throughout are of Bramley Fall, Runcorn or Portland stone and the intervening space is filled with concrete blocks weighing about 8 tons each. The stones for the fort were shaped, dry-fitted and numbered at the contractor's yard at Stokes Bay. From there they were taken by barge to be lowered on the sea bed by steam crane, where divers placed them precisely. In January 1868 a difference of level of 3-inches in the top bed of the sixth course in an E.S.E. Direction was corrected in the eighth course. The depth of water over the shoal at L.W.O.S.T. Was at the time 9ft. The rise of the tide being 14ft.
On the gun floor level Spitbank is constructed in two halves, the outer iron portion designed to hold nine 10-inch guns whilst the inner brick-vaulted, granite-faced portion facing the harbour entrance was to hold six 7-inch RML guns. The piers in this portion are 11ft..2-in, that of the granite facing varying from 2ft. 6-in to 4ft. 8-in at the ports.
---
No Mans Land Fort

Almost identical to Horse Sand Fort, now a luxury home with 2 helipads.
---
Horse Sand Fort
A larger fort, 240' across, built between 1865 and 1880, with 2 floors and a basement, armour plated all round. The original armament was to have been 45 10" and 44 12.5" RML guns on the gun floors and 10 12" RMLs on the roof in 5 turrets. In fact the turrets were never built, and the limited space meant the 12.5" guns had to be operated with less than full charges of powder. Until in 1882 12" RBL guns were placed in alternate bays. Details of W.W.I and W.W.II to come. Still owned by the MoD and inaccessible.
---
St Helens Fort
Built between 1867 and 1880, close in to the Isle of Wight to protect the St Helens Road anchorage, it suffered badly from subsidence which forced many changes to the plans, ending up with 2 10" eighteen ton RML guns to landward and 1 12.5" thirty-eight ton RML to seaward. W.W.I and W.W.II details to come. The construction of St Helens Fort was started in 1867 as a result of a Royal Commission report published in 1859. It is one of a series of defensive forts built by the then Prime Minister Lord Palmerston to defend the south of England against a possible invasion threat from Napoleon III.
Despite problems with subsidence, which forced many changes to the plans the fort was finished in 1880. It is situated close to Bembridge harbour so as to protect the strategically important St Helens Roads anchorage. During the two World Wars it acted as an anti-aircraft gun platform
Now in private hands, not open to the public.
---
---
---

Featured Hotel
Alverbank Country Hotel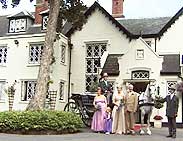 ● Without doubt one of Gosport's best hotels that successfully combines style and elegance with a very relaxed atmosphere.
---
---

Fun Facts
Each king in a deck of playing cards represents a great king from history.
Spades - King David; Clubs - Alexander the Great; Hearts - Charlemagne; and Diamonds - Julius Caesar.
111,111,111 x 111,111,111 =3D 12,345,678,987,654,321
Clans of long ago that wanted to get rid of their unwanted people without killing them used to burn their houses down-hence the expression "to get fired."
---